About the Conference
The deadline for registration and abstract submission is extended to the 1-st of August 2017.
Welcome to the website of the sixth edition of the series of conferences High-Energy Phenomena in Relativistic Outflows (HEPRO VI).
HEPRO VI will take place in Moscow (Russia) during September 11-15, 2017.
It will be hosted by Space Research Institute of Russian Academy of Sciences (IKI RAS). The conference will be devoted to the presentation and discussion of hot recent observational, phenomenological, and theoretical developments in the field of high energy phenomena associated with relativistic winds and jets. The topics include: gamma-ray and neutrino production in relativistic outflows, multi-wavelength jet emission, formation and propagation of relativistic jets on different scales, and particle acceleration in various relativistic contexts.

IMPORTANT DATES
Registration closes: July 15th 2017
Deadline for submission of abstracts: July 15th 2017
Conference begins: September 11th 2017

HOSTING INSTITUTE:

SPONSOR
CONFERENCE POSTER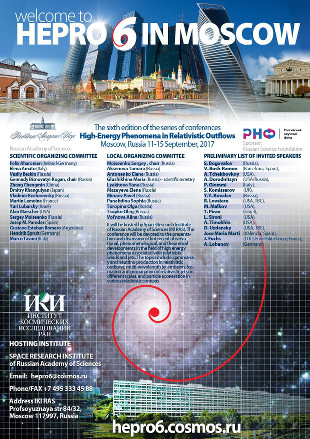 (Click the above image for the print-size version)